PVC is a versatile polymer suitable for many typical applications such as electrical wires & cables, shoe soles, door frames, window frames & profiles. Trendy is PVC piping applications ranging from large sewer lines to sewage and residential sewer lines and little water and electrical conduits.
Calcium carbonate is the raw material that contributes to the top performance characteristics of many of these piping applications. PVC pipe compounds often contain various types and amounts of calcium carbonate. So what is the principle & purpose of calcium carbonate used in PVC pipe production?
Calcium carbonate for making PVC pipes
Compounds for the production of PVC pipes include calcium carbonate as the main ingredient, paraffin wax, and other ingredients such as stabilizers, titanium dioxide, calcium stearate, and processing aids. The influence of calcium carbonate particle size, coating and application level on the properties of PVC pipes depends on the quality of calcium carbonate (purity, whiteness, hardness, particle size, etc.).
Purpose of using calcium carbonate
Calcium carbonate improves the basic properties of polyvinyl chloride by adding stiffness to the polymer matrix and improves impact resistance as the particle size becomes smaller. Calcium carbonate also improves blend performance by helping to disperse the various ingredients into the PVC powder mix and improves processing by making the polymer flow more uniform.
The relationship between the grain size of calcium carbonate and the impact strength of the finished rigid PVC part also applies to extrusion pipes and injection molded fittings. The goal is to produce a good piece at the lowest possible cost. We achieved the goal by minimizing the ingredients that add to the price of PVC formulations, such as impact modifiers.
Ideally, eliminate the use of impact modifiers. We can achieve this in larger diameter pipes using formulations containing 2-3 microns of calcium carbonate. Impact specification is often more challenging to meet in small diameter tubing, so finer calcium carbonate must be used – typically in the 1-2 micron range.
In applications where impact modifiers are required, we can minimize the number by using a very fine filler particle PCC such as Calofort® S or PCC Ultra-Pflex®. This approach is advantageous in demanding applications such as large-diameter pipe and drains installation formulations.
Searching and selecting quality calcium carbonate sources
Thus, calcium carbonate plays an essential role in the PVC pipe manufacturing industry. Selecting a source of quality input materials is also a matter of concern. There are many criteria for the standard determination of calcium carbonate. The world's calcium carbonate suppliers are constantly expanding the direction of exploitation and production to keep up with the needs of applications of this material.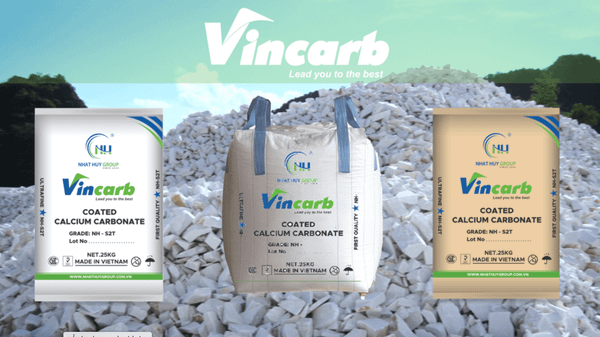 In Vietnam, Global Minerals Joint Stock Company – a member of Nhat Huy Group, is known as the leading corporation in Vietnam in producing and exporting calcium carbonate powder. Suppose you are a PVC pipe manufacturing business. In that case, you should look for suppliers with strengths in raw materials and production scale, such as Global Minerals, to get maximum benefits for your business.
Coated Calcium Carbonate Powder
Uncoated Calcium Carbonate Powder
In addition, Global Minerals' calcium carbonate has outstanding qualities such as:
Reduce white dye or TiO2 because of high index original whiteness (98% min)
Increase the hardness, surface gloss of the product -> good printing
Can be mixed directly with PP powder to shape vacuum, radiation
Easy to distribute
Heat resistance, curvature, size, stability, printability, and texture release heat due to heating to avoid environmental pollution.